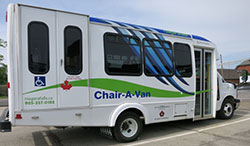 Chair-A-Van provides curb-to-curb transportation service within the municipal boundaries of the City of Niagara Falls for registered users with disabilities.  The service is provided Monday to Saturday 6:00 a.m. to 11:00 p.m., Sunday and statutory holidays 7:00 a.m. to 7:30 p.m.
Who is eligible for this service?
Anyone who is unable to use conventional Transit service due to their disabilities can apply for specialized transit service.  Visitors to Niagara Falls who are registered users of a similar service in their hometown can book the service and must show proof of their hometown registration at time of boarding.
How can I apply for this service?
To apply for Chair-A-Van service (Specialized transit) you must first complete an application form available at:
Chair-A-Van office, St. John Ambulance, 5734 Glenholme Ave., Niagara Falls
Call the Niagara Chair-A-Van office at 905-357-0122 to have an application mailed
Transit Services Office – 8208 Heartland Forest Road
Completed forms can be returned to:
Chair-A-Van
St. John Ambulance
5734 Glenholme Ave.
Niagara Falls, ON
L2G 4Y3
Fax:  905-357-7199
Applications for Specialized Transit service must be certified by a medical practitioner and will be reviewed for approval.  If approved, eligibility will be granted on an unconditional, conditional or temporary basis.
How do I book a ride?
Call 905-357-0122, Monday to Friday 8:30 a.m. to 8:30 p.m. or Saturday 10 a.m. to 6 p.m. and Sunday 9 a.m to 5 p.m. to book a ride.  Know the addresses of the origin and destination of the ride, appointment time and return time, if you will be using a wheelchair or scooter and whether or not you will be travelling alone or with an attendant or service animal.  All bookings are made on a first-come, first-served basis.  If you want to change your destination, you must contact the office.
If you wish to book a ride to the same location at the same time each week for medical or employment reasons only (known as subscription trips) contact the dispatcher a minimum of one week in advance of the first ride.
Is Chair-A-Van service accessible?
Yes, Chair-A-Van uses a fleet of specialized wheelchair accessible vehicles to provide service for persons with disabilities.  Drivers are only authorized for curb-to-curb service.  It is the responsibility of the user to make arrangements for an attendant to accompany him/her on the ride or meet them at the departure or arrival points if assistance is required to carry packages or overcome obstacles such as stairs.  The use of bundle buggies for groceries is encouraged.
Keeping the system fair for everyone
There are approximately 1,800 registered customers of the Chair-A-Van program.  To ensure that the service is available to everyone who requires it, the following policies apply:
Customers must be ready and waiting for their pick up 10 minutes prior to the scheduled time.  Buses cannot wait for late passengers.
A no-show will be logged for all passengers who do not show up for their ride or who cancel at the door.  A no-show fee equivalent to the fare for one ride will be billed.
Customers may travel with a companion, space permitting.
Drivers are not required to carry groceries or parcels, the use of bundle buggies is encouraged.
Drivers are not permitted to enter a customer's place of residence.
Drivers cannot make unscheduled stops.
Infractions of Chair-A-Van policies will be addressed through written warnings.  Continued eligibility will be reviewed by staff after three written warnings at which time privileges to use the service may be suspended for a period of up to two weeks.
Where a customer's actions against the policies outlined here incur a cost to the program, the customer will be charged for that cost.
Customers of Chair-A-Van are encouraged to use wheelchairs and scooters that comply with the following Canadian Standards Association (CSA) standards when travelling on Chair-A-Van to optimize safety for all passengers:
The combined weight of the wheelchair/scooter and passenger shall not exceed 600 pounds.
The maximum base dimensions for wheelchairs, scooters or walkers shall not exceed 30 by 50 inches.
All wheelchairs shall be equipped with a seat belt (lap belt), which must be used.
Wheelchairs and scooters shall have functioning brakes.